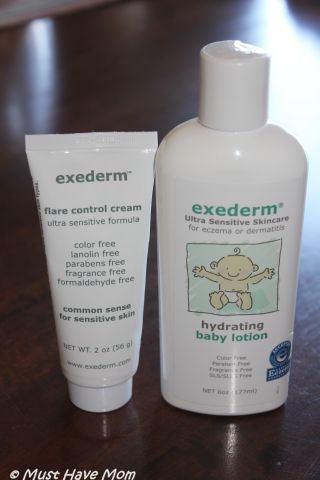 Ever since Aiden was a baby he has had very sensitive skin. We tried so many different products on him and came up with a very short list of what works. One of our favorites is Exederm. Why? Because it works. Plain and simple it is a fantastic product that doesn't cause any irritation to his sensitive skin and even calms flare ups. If his skin comes in contact with anything that has fabric softener on it then his whole body breaks out in a bumpy, red rash. The Exederm Flare Control Cream works great to calm it down.
Too many baby and children's skincare products contain ingredients that may irritate dry sensitive skin, especially for those with eczema or dermatitis – allergic reactions & rash are common. Most everyday baby and children's skincare products are actually designed for the average child – even some of those products labeled as 'Sensitive' or 'Mild' or 'Hypoallergenic'. Many 'natural' or herbal products can be just as bad too ! We believe children with sensitive skin need products with less irritants – WHY TAKE RISKS? Exederm has been specially formulated to avoid harsh chemicals, unnecessary additives and unproven herbal ingredients that may irritate and cause a rash on sensitive skin or trigger an eczema flare-up on your child's skin. Avoiding irritants and eczema triggers is common sense. Its a philosophy that we've applied across our entire product range.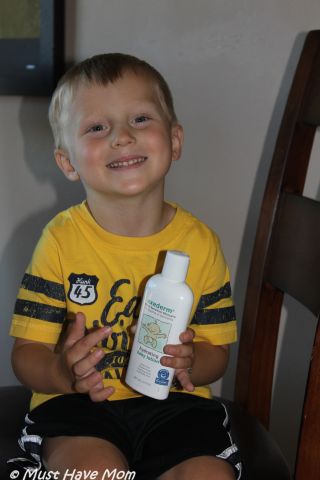 Aiden has a life threatening peanut allergy and often kids diagnosed with this also have eczema. Ever since we started using Exederm on him exclusively he hasn't had any problems with his eczema at all. I'm a huge fan of Exederm and I know that for us it's one of the few things that works on him. Consistently it delivers the moisture his skin needs without causing any skin issues.
You can buy Exederm at many retailers including Walgreens, Rite Aid, CVS and online at Amazon. They have an entire line of products with everything from shampoos and wash to lotion and oils. If your child struggles with eczema or sensitive skin I would definitely recommend trying Exederm!
Win! One reader will win Exederm's Flare Control Cream so you can get a handle on your child's eczema and give their product a try! Enter my Rafflecopter giveaway below. Good Luck!
<!–
–>